Message From Our Founders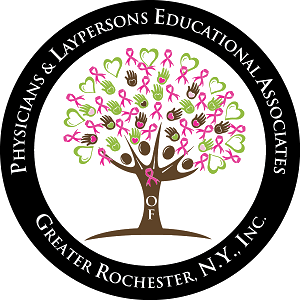 Each year we are blessed to have many of the top Breast Cancer Care Medical Professionals in Rochester, New York, from across all health care systems and private practices, join together as one family, in a CME accredited setting. We come together one night every year to teach each other, share knowledge with each other, and laypeople in medical and lay terms simultaneously.
This association is unique and allows our community to meet and hear from the same physicians who provide quality care in this community. We are expecting close to 22 of Rochester's top specialists on hand to teach each year. That special "working together and collaboration" across all health care systems and practices, demonstrates to our laypeople and each other, the special
"connectedness" which exists among Rochester's Breast Cancer Care physicians, other health care professionals, and laypeople. It is clear from this bonding we have established common goals: to teach each other, teach and serve the people we all have taken an oath to care for.
"Our goal is education for all on equal footing, and in partnership, regardless. PLEA of GRNY's goal is to teach all, in CME accredited settings for physicians, medical professionals, caregivers, and laypeople regardless of medical status or educational level. We are inclusive and seek to reach and teach the healthy, the ill, underrepresented, under-served, poor, middle class and the rich in these special seminars, and make all feel welcome."
PLEA of GRNY has already began the outreach to laypeople on St. Thomas in the Virgin Islands at Schneider Regional Medical Center and in Jackson, Mississippi working with the Mississippi Witness Project.
Upcoming Event: 5th Annual Multidisciplinary City Wide Breast Cancer Seminar October 10, 2018

Locust Hill Country Club will once again host the 5th Annual Physicians and Laypersons Educational Associates of Greater Rochester New York (PLEA of GRNY) CME Accredited Multidisciplinary City Wide Breast Cancer Seminar on Wednesday, October 10, 2018 from 5:00 pm to 9:15 pm. The facility is located at 2000 Jefferson Rd, Pittsford, NY 14534.